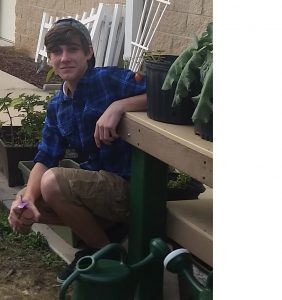 The month of April provides an opportunity to recognize and honor the service of our youngest heroes, military children. Since 1986, April has been designated Month of the Military Child. This allows us to acknowledge the significant role military youth play in our communities and honor them for their commitment and sacrifice. They are resilient and take pride in their service to our Country. They deserve our appreciation and support.
I am so excited to introduce you to one of our 4-H grown military youth, Michael. He began as a Bay County 4-H member as a summer camper. Michael then became involved with the 4-H club programs on base through the 4-H Torch Leadership Club. He served as a peer mentor to other military youth in the base school age program. His work with younger youth included helping them design, plant, and maintain a garden at their youth center. He assisted youth with homework and school struggles. Michael also participates in the 4-H Archery Program. He has been "Teen of the Month" at his youth center. Michael and his peers adopted a quarterly service project using cooking skills he acquired from the 4-H foods and nutrition project to prepare and serve food to the single military members. He and his club perfected their entrepreneurial skills while working on a service project to support local veterans.
He does all this while completing his own school work and participating on the school track team. Michael is a phenomenal youth with a heart of gold and passion for helping others. He is a well-rounded young man that is very involved in 4-H. He exemplifies the 4 H's – Head, Hands, Heart and Health. One of his club leaders, Ms. Heather said he really shows an interest in the younger youth and takes his role as a peer mentor seriously. She relayed a story of Michael taking extra time from his schedule to help a youth he was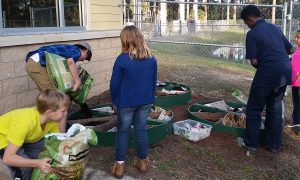 mentoring prepare for an upcoming test. His mentee was struggling to understand the material that was going to be tested on the next day, so extra time was needed reviewing the material.
When I ask Michael what he felt he was getting out of being a 4-H member at the youth center and at camp, he responded "I feel that for the last few years since I have been in 4-H, I have become more outgoing, confident and experienced in so many ways. If not for 4-H, I might still be sitting in my room all day playing video games. I especially like helping others whenever I can whether it's at the Youth Center or at Summer Camp. So to me, 4-H is an amazing program that has been a positive influence in my life and in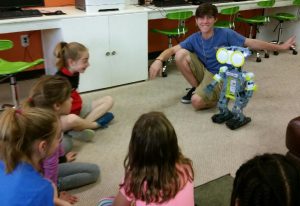 making me the person I am today."
If you are a teen and want to learn more about how you can volunteer, please contact your local extension agent. Volunteering is a time investment that will pay you back exponentially through the growth you see in the youth and program you're affiliated with. Volunteers come in all forms from peer mentors or camp counselors, to committee members. Follow the links below to see how you can help 4-H expand our capacity to reach more youth, more families, and more communities through utilizing your skills, your knowledge, and your story! #trueleaders #4hgrows
0