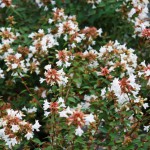 Abelias have been a landscape staple in the Southeastern United States for over a century. Numerous types have been used over the years, but two of the oldest forms still used in landscapes are Glossy Abelia Abelia x grandiflora and Abelia 'Edward Goucher', dating back to the early 1900s.
Glossy Abelia is a large informal shaped shrub with ½ – 1 inch glossy green leaves and large clusters of tiny white flowers. It can grow to 8 feet wide and tall and tolerates tough landscape sites such as full sun, low moisture (once established), acidic or slightly alkaline soils. It blooms prolifically and is attractive to butterflies and pollinators. New stems are reddish colored which contrasts nicely with dark green foliage which may be evergreen if winters are mild. After blooms are spent the pink sepals remain on the plants carrying more color through the season.
'Edward Goucher' Abelia does not grow quite as large and is a good performer with pink flowers. It is smaller than Glossy Abelia, but can still reach 5'x5' when mature. It is also tolerant of hot, dry spots in the landscape.
Over the past few decades there have been many new introductions of abelia cultivars to the market. A major goal of breeders was to offer abelias that would fit into smaller landscapes and there has also been a trend towards variegated foliage color. There are dozens of abelias in production, but a few listed below are usually easy to find in local garden centers and have proven reliable in Florida landscapes.
Abelia x 'Rose Creek' Rose Creek Abelia, low mounding growth habit reaching 2-3' tall and 3-4' wide, green foliage, new reddish stems, large clusters of white flowers
Abelia x grandiflora 'Hopley's Lemon Zest™' Lemon Zest Abelia or Miss Lemon™ Abelia grows 3-4' tall and wide, has yellow and green variegated foliage, light pink flowers
Abelia x grandiflora 'Confetti' Confetti® Abelia, matures at 3' tall and wide, new foliage has pink, white, and green variegation and mature foliage is green and white variegated, pink and white flowers
Abelia x grandiflora 'Kaleidoscope' P.P.#16,988 Kaleidoscope Abelia, compact growth 2-3' tall by 3-3.5' wide, gold and pink new foliage that matures into gold and green variegation, white flowers
All abelias perform best in full sun to part shade and have low water requirements once established. They are not salt tolerant, so avoid planting in coastal landscapes or in areas where salts are an issue. Abelias have few pest problems, but aphids have been known to feed on new growth – avoid over fertilization.
0