Add Potatoes to Your Florida Garden
A common misconception is that all potatoes come from the Midwest. However, select Irish potato varieties are produced commercially in Florida on over 20,000 acres. Potatoes can also be grown in Florida home gardens if care is taken to select the correct type and recognize proper timing.
Potatoes are a cool season crop and the ideal time to plant in the Florida Panhandle is in January and February. Valentine's Day is a good target planting date for home gardeners with plants producing tubers after about three months (variety and weather dependent).
The ideal site for potatoes has well-drained soils with a pH range of 5-6. To increase drainage, beds can be formed into hills that are 10-12 inches above the soil. Another option is to grow potatoes in raised beds or containers to ensure the plants will not sit in water during heavy rains.
Use certified "seed" potatoes to ensure you are starting with healthy tubers. Cut seed potatoes into egg sized pieces that contain at least one eye each. Allow the cut seed pieces to heal for a couple of days in a cool, dark spot with good ventilation. After healing they can be planted about four inches deep 6-8 inches apart with three feet between rows.
Sometimes potatoes will push to the surface of the soil and will need to be covered with more soil (hilling). If the potatoes are not covered, they can become damaged by the sun and inedible.
Keep your garden weed free to minimize competition with your crop and to also reduce the likelihood of weeds harboring insects or disease that can be harmful to potato plants.
A few weeks after planting seed potatoes, you should begin to see some vegetative (leaves and stems) growth above the soil. Potato plants can grow over a foot tall and are bushy. Small new tubers start to form underground before blooming, but they need more time to bulk up before harvesting. The entire growing process takes between 80 and 115 days from planting to harvest.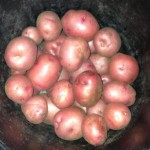 If you plan to store your potatoes, allow them to remain in the ground for 2-3 weeks after the top of the plant has died to fully mature. If the vegetative portion of the plant does not die on its own the top can be cut to induce maturation of the tubers.
For recommended varieties and more information on care and harvesting please see "Growing Potatoes in the Florida Home Garden."