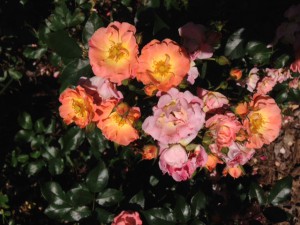 Growing roses in the South can have challenges and many gardeners think that they are just too high maintenance to plant. Plant developers are aware of this opinion and have worked to develop low maintenance roses that can make a novice gardener look like a pro.
The trend in horticulture is to develop and release plant series where closely related plants have similar characteristics but offer some diversity such as different flower color and size. A new series that is performing well in North Florida is Drift® Groundcover Roses. Available with flower colors ranging from white, yellow, pink, apricot, to red. All exhibit a low growing habit and will remain under three feet tall and spread up to four feet wide. Flowers are born in dense clusters for most of the year, only taking a break in the winter months.
Although not completely disease free, these roses do show resistance to rust, powdery mildew, and black spot which are common problems with roses. Deadheading is not necessary, but can be done to increase bloom and keep plants looking tidy. One of the best characteristics of the Drift® Groundcover Rose series is that they don't get very tall, so they fit in small spaces. If you are looking for incredible color in a sunny site with limited space give this series a try.
Although low maintenance, roses do still require some attention, for more information read Growing Roses in Florida.
0