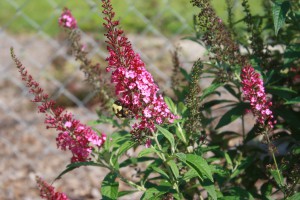 Most people appreciate a colorful landscape, but may not have a lot of time or money to invest into keeping it looking good. Add to that the low nutrient soils that do not hold water that are common in the western Panhandle and keeping an attractive yard becomes even more challenging, especially if irrigation is not available.
If you are looking for plants that require minimal maintenance beyond watering until establishment here are a few you might want to try.
There are many different mature sizes and colors, but if you have a small space consider a dwarf like CranRazz or the Lo & Behold® series. Butterfly bush blooms throughout the warm season and if it slows down, just deadhead or prune heavily and it will flush out with new foliage and blooms. As the name suggests, butterflies are attracted to the blooms.
Another plans that is very heat tolerant with low water requirements is Hyssop Agastache rupestris. Fine textured foliage and flowers that bloom all summer and thrive on neglect. These come in hot colors including orange, pink and bicolor varieties.
Sedum love hot, dry spots and Sedum rupestre "Angelina' is a groundcover type with showy yellow foliage. It performs great in containers or sprawling over beds. Evergreen with a bronzy winter color, it stands out all year. Tiny yellow flowers appear to float above the foliage in the early summer, but do turn brown and need to be snipped off to keep plants looking tidy.
0