Scouting Soybeans for Insects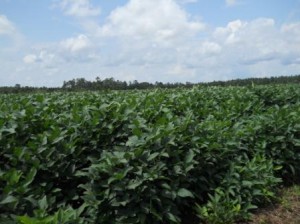 Lots of things like to eat soybeans:  beetles, stink bugs, worms, leaf hoppers, grasshoppers and even deer.  During the pod-fill stage, we need to limit defoliation to less than 20%.  Around Labor Day, defoliation can be caused by velvetbean worms, corn earworms, armyworms, stink bugs, loopers and grasshoppers.  Soybean growers should scout their fields often during the weeks surrounding Labor Day.
In the EDIS publication, Soybean Production in Florida, the recommended control for these pests around Labor Day would be a low rate of Dimilin.  Also, research has shown adding boron to this late season application can increase yield 5-10%.  However, growers should know what insects are a problem in their fields before indiscriminately spraying.
Here are a couple of publications to help identify and manage insects in soybeans:
Soybean Insect Identification Guide