Friday Feature: Florida Ranchers Working Together to Supply Local Beef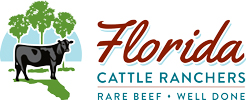 A new cooperative, Florida Cattle Ranchers LLC is developing a branded beef program to supply Florida born and raised beef to Florida consumers.  Their slogan is "Rare Beef – Well Done."  This week's featured video highlights what this group of cattle producers is striving to accomplish.
Florida Cattle Ranchers, LLC is pleased to present our new video detailing Florida's ranching legacy, our commitment to sustainability, the humane treatment of animals, and how our homegrown beef is raised right.
[youtube https://www.youtube.com/watch?v=rdyilZ2ArUI?rel=0]
**************************************************************************************
If you enjoyed this video, you might want to check out the featured videos from previous weeks:  Friday Features

If you come across a neat video or story, please send it in so we can share it with our readers. Send a link to a video you found interesting or humorous to:  Friday Features