2016 Northwest Florida Beef Conference & Trade Show February 10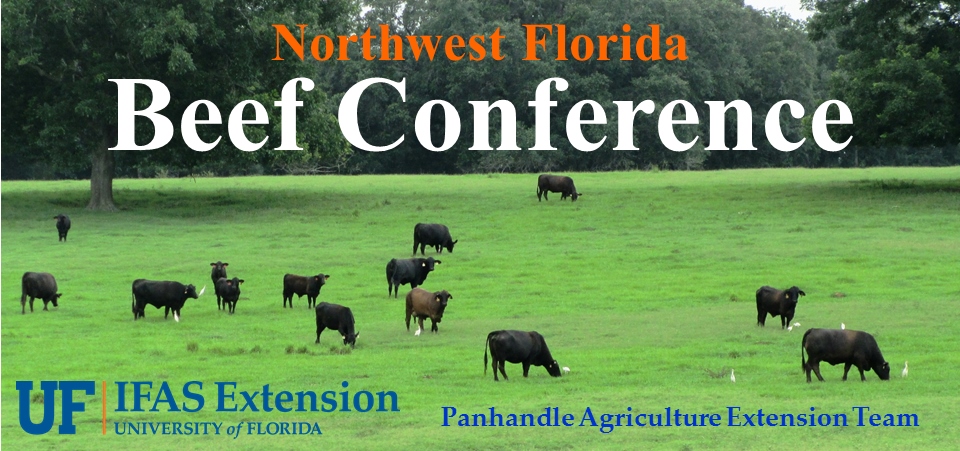 The 31st annual Northwest Florida Beef Conference and Trade Show will be held on Wednesday, February 10th, in the Agriculture Conference Center, at the Jackson County Extension Office, located at 2741 Penn Avenue, Marianna, Florida. This is a regional educational program for cattle ranchers in the Southeast. Registration and the Trade Show open at 7:30 AM central time, the program starts at 8:15 AM, and concludes with a steak lunch. There is a $5 per person registration fee for the event, payable at the door.
The focus of the Beef Conference this year will be: Profitable Ranching in a Declining Market. The keynote speaker this year will be Dr. Larry Corah.  Dr. Corah has served the beef industry in several roles:  Vice President of Certified Angus Beef Program, Director of Production Systems for the National Cattlemen's Beef Association (NCBA), and as a Beef Extension Specialist for 25 years at Kansas State University.  Dr. Corah and the other speakers will be sharing ideas to guide ranchers on ways to improve income and the efficiency of a beef operation even in a declining cattle market.  Presentation topics will include: cattle market outlook and a new budget tool, enhancing calf-crop value, forage quality, winter supplementation, and improving herd performance.  See the agenda below for the full line of topics and presenters.
The Beef Conference will also feature a Trade Show of businesses and agencies that offer goods and services to cattle producers in the region. Time will be provided to visit with the company representatives to learn about their products designed to enhance beef cattle operations.
The Northwest Florida Beef Conference and Trade Show is an educational program provided by the UF/IFAS Panhandle Agriculture Extension Team. For more information on the Beef Conference, or to exhibit in the Trade Show, contact Doug Mayo, at 850-482-9620, or demayo@ufl.edu.
Download the printer friendly flyer: 
Schedule of Events (all times Central Time)
7:30 – Trade Show & Registration Opens

8:15 – Welcome

8:30 – Market Outlook & Key Focus Areas for Long-Term Profits


———-

Chris Prevatt, Regional Beef & Forage Economics Agent

9:00 – Enhancing the Value of Your Calf-Crop


———–

Larry Corah, Former Vice President of Certified Angus Beef

9:45 – Trade Show Break

10:30 – Building Herd Performance through Heifer & Cow Management


————-

Kalyn Waters, Holmes County Extension Director

11:00 – Producing Better Hay by Managing Forage Quality


————

Jose Dubeux, NFREC Forage Management Specialist

11:30 – Winter Feeding Based on Forage Test Results


————-

Mark Mauldin, Washington County Extension Agent

12: 00 – NFREC Beef & Forage Research Update


————-

UF Graduate Student

12:15 – Grilled Steak Lunch

12:45 – 1:30 Trade Show Open